Dr. Jože Ruparčič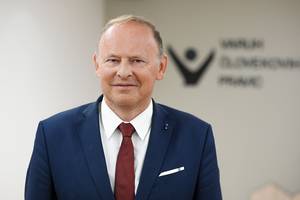 Deputy Ombudsman
In 1992, Ruparčič graduated from the Faculty of Law at the University of Ljubljana.
In 2019, he obtained his doctoral degree at the European Faculty of Law with a doctoral dissertation titled Business Judgement Rule and liability for damages of managing authorities.
From 1992 to 1993, he was a legal trainee at the Higher Court of Ljubljana where he passed the State Bar Exam.
From 1993 to 1995, he was employed as a legal secretary at the Ljubljana District Court.
From 1995 to 1997, he worked at the Secretariat of the Agency of the Republic of Slovenia for the Rehabilitation of Banks and Savings Banks.
In 1997, he joined the Secretariat of the Agency of the Republic of Slovenia for Restructuring and Privatisation.
From 1998 to 2004, he was a judge at the Civil Litigation Section at the Ljubljana Local Court.
Ruparčič then began working at the Commercial Justice Section at the Ljubljana District Court.
On 5. 3. 2020 he was apointed as a Deputy Ombudsman.
Jože Ruparčič has been been performing the duties of judicial office for over 20 years. During his judicial career, he has continuously developed a scientific interest for legal phenomena which reflect the orientation of values in a democratic culture. He has given numerous lectures and published academic articles in academic periodicals.
He is an expert of civil and commercial law with extensive experience and vast knowledge in his field. He has a broad range of knowledge and skills, since his previous work encompassed the most demanding tasks in the most crucial legal fields.