Peter Svetina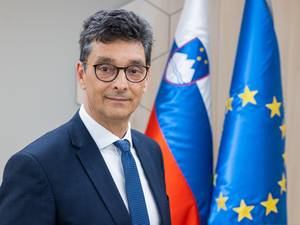 Human rights ombudsman
He has devoted his entire career to the field of social care, education, and charitable, voluntary and disability rights organisations.
In 1989 he graduated from the Pedagogical Academy, specialising in learning disabilities, before passing the professional examination for teachers and carers in educational organisations, and the professional examination in the field of social care. He began his career as a teacher in a special primary school, before focusing on work with adults with special needs.
Between 1989 and 1992 he helped to found and also ran the young disabled persons unit at Mengeš Rest Home, where he worked actively with social work centres and other institutions. He was actively involved at the Aktiva sheltered work centre, both organisationally and professionally, and also acted as an advisor and mentor for teams at Sožitje, an association for people with intellectual disabilities.
In 1992 he decided to further his professional knowledge and experience outside Slovenia. He was invited to join Lebenshilfe in the Austrian province of Kärnten, where between 1992 and 1994 he worked as head of the residential team in the town of Ledenitzen.
In 1994, at the invitation of the general director, he took over as head of teaching at Lebenshilfe Kärnten, where he was responsible for coordinating the work of professionals at four institutions in Kärnten (Spittal an der Drau, Ledenitzen, Klagenfurt, Wolfsberg), drawing up individual education plans for 225 day care users and individual quality-of-life plans for 114 institutional care users, and preparing, managing and coordinating the permanent professional training of 80 colleagues. He was involved in the management of Lebenshilfe Kärnten, the board of experts at Lebenshilfe Austria, and the coordination of the provincial heads of teaching at Lebenshilfe Austria, and worked with town officials, administrative units, and the provincial government in Kärnten to agree financial and professional policy at Lebenshilfe.
Between 1995 and 1999 he continued his career as an educator at the youth residential centre at the Slovenian School Society in Klagenfurt, where he got to closely know the activities of the Slovene community in Kärnten, and learned about minority issues. He was a teacher and social leader for a group of 50 young people aged between 12 and 25. His social leadership also involved work with older people and community representatives, the position of the Slovene minority in Kärnten, and the associated social and mental pressures on young people, and agreements and cooperation with teams at local institutes, at institutes for Slovenes living in neighbouring countries and at provincial level.During this time he wrote articles and lectured for members of the Slovene minority in Kärnten, and was highly active among this community.
In 1999 he returned to Slovenia with his Austrian-born family, as assistant director of INCE Mengeš, a sheltered work centre.
In December 2003 after the retirement of his predecessor, he took over the role of director of INCE Mengeš. During this period he was commercially and professionally in charge of the management, care and employment under special conditions of 103 adults with moderate, medium and severe intellectual disabilities.He worked intensively with people with developmental disorders, their parents, siblings, and fosterers, and NGOs, and helped to forge innovative approaches that brought people with developmental disorders a higher quality of life. He worked with experts and institutions alike, and made valuable contributions to the development of the profession. He was a member and then the president of the executive board of the Association of Sheltered Work Centres, before becoming president of the organisation.
After finishing his term of office, he furthered his personal and professional development by working with Šent, the Slovenian association for mental health, in founding Karso d.o.o., an employment centre, which he ran successfully for seven years. In his seven years at the helm, he found permanent, high-quality employment for 15 colleagues, ten of whom were disabled workers in protected jobs, in Pivka and Slovenske Konjice.
In 2014, together with Matija Zadrgal he founded Grunt, an institute for social entrepreneurship in rural areas. The aim of the institute was creating permanent, high-quality jobs in rural areas for disabled people with the lowest employment prospects. It received employment centre status in 2015, and hired five disabled workers in protected jobs, and three other professionals. The institute operates in Komenda, and has become an example of good practice in the recruitment of disabled people in rural areas, with a reputation throughout Slovenia and beyond.
24. 2. 2019 he was elected as Human Rights Ombudsman of the Republic of Slovenia for a 6 year term. In that capacity he was on 23. 12. 2021 elected as the Member of the Board of Directors of the European region of The International Ombudsman Institute (IOI), later he became a Member of a World IOI Board.
25. 5. 2023 he was unanimously elected to the position of the first Vice-President of the Association of Mediterranean Ombudsmen (AOM).
Since the very beginning of his professional career he has been a member of more than ten NGOs working in the areas of intellectual disabilities, mental health disorders, social care, education and sport, to name just a few, where he has worked hard to uphold the rights of people with special needs and other vulnerable groups, and to advocate for them and for the rights of their families. He has been an active member of the Social Chamber of Slovenia for many terms now.

Between 2013 and 2018 he was a member of the council of the Foundation of Disability and Humanitarian Organisations, where he gained up-close knowledge of their activities and the issues that they face.

He was a member of the presidency of the Ice Hockey Federation of Slovenia between 2014 and 2018, with responsibility for the work and development of women's ice hockey.

Alongside his wealth of practical and life experience in working with vulnerable groups, he is open to initiatives and proposals from all population groups. He is steadfast in his views, but always ready to accept convincing arguments. On his journey he has been willing to overcome the greatest obstacles, if they benefit people and help them secure their basic rights, which he proved during the complications encountered in the adoption of the Social Inclusion for People with Disabilities Act.

Mr Svetina has consistently devoted himself, professionally and charitably, to the more vulnerable groups in society who are often cast aside to the margins or to the bottom of the heap. It is these very groups whose human rights and fundamental freedoms are most often breached.