Dr. Dijana Možina Zupanc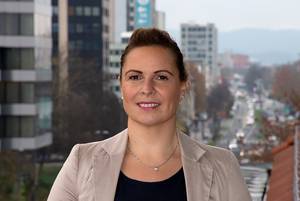 Deputy Ombudsman
• In 2008, she graduated from the Faculty of Law of the University of Maribor.
• In 2017, she successfully defended her PhD in law with the thesis entitled Prospects for sustainable development in the Zasavje region of Slovenia at the European Faculty of Law.
• From 2007 to 2008, she worked at the Permanent Mission of the Republic of Slovenia to the United Nations (New York, USA).
• Between 2009 and 2010, she was an adviser in the Minister's Office at the Ministry of the Environment and Spatial Planning.
• From 2010 to 2012, she was a senior adviser at the Department of International Cooperation of the Government Office of the Republic of Slovenia for Climate Change and within this a negotiator of the Republic of Slovenia for climate change within the United Nations Convention.
• Between 2012 and 2017, she acted as a senior adviser in the Department for Global Challenges at the Ministry of Foreign Affairs.
• In 2017, she took on the roles of Head of the office of the President of the Court of Audit of the Republic of Slovenia and Head of the Service for cooperation with the public and international affairs at the Court of Audit of the Republic of Slovenia.
• She was appointed Deputy Human Rights Ombudsman on 24 January 2023.

Dr Dijana Možina Zupanc is a legal expert with a wide knowledge of law. Over the course of her career, she has acquired vast experience, including in the fields of sustainable development, international cooperation and diplomacy, project management, public relations, and protocol. She has devoted her time to global and developmental challenges with the goal to ensure a safe, healthy, and proper environment, especially for vulnerable groups of inhabitants. Her work has given her a broad insight into the work of independent institutions. As a representative of the Court of Audit of the Republic of Slovenia, she was part of a group of independent state bodies in the field of the rule of law and annual assessment of the situation in the state from the European Commission. She also acquired the title of a state auditor.